NEWS ARCHIVE

AAXA Announces P2 Micro Projector for Professional Users
July 31, 2009
AAXA Technologies is pleased to introduce the
AAXA P2 Pico Projector
- the brightest pico projector on the market. Designed for the professional user, the AAXA P2 micro projector employs an ultra-efficient optical engine design, new LCoS chip, and high-power LED to achieve a stunning 33 lumen output at 800x600 resolution.
The AAXA P2 projector brings true business presentation capabilities to the micro projector market. With its ultra-efficient optical engine, the P2 can produce excellent quality images even in less-than-dark environments.* When used in darker environments the P2 can produce spectacular images up to 80".
Professional features include a direct VGA connector supporting up to 1280x720 resolution for laptop connection, an infrared remote control, dual 0.5 watt stereo speakers, and on-board gamma correction. Additional features include AAXA's popular media player capable of decoding of video, audio, and images (MP3, WMA, AVI, WMV, JPG, GIF, TXT), 1GB onboard memory, and a microSD slot capable of reading up to 4GB cards.
The P2 is packaged into a pint-sized unit measuring 4.3" x 2.3" x 1" and weighs in at only 260 grams(**). The P2 projector easily drops into any pocket or brief case and is fully portable and battery powered for true business flexibility. Additional accessories allow the P2 to connect to Apple iPhone/iPod, Microsoft Zune, Sony Playstation Portable (PSP), and a wide range of cellphones from Nokia, LG, Samsung, and HTC.
Battery life is rated at 60 minutes (standard battery), with optional "super-thin" 35 minute and 180 minute batteries available.
MSRP is $349.00 and pre-orders will begin shipping on August 15, 2009
*As with all sub-1000 lumen projectors ambient lighting should be controlled for best results
**Not including battery pack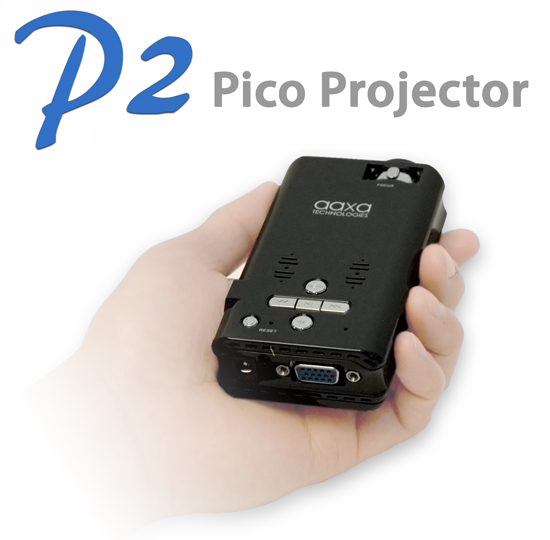 CONTACT US
AAXA Technologies, Inc.
1541 Parkway Loop, Suite F
Tustin, CA 92780
Phone: (714) 957-1852
(714) 957-1987
Fax: (714) 242-6712
Email:
info@aaxatech.com