NEWS ARCHIVE

World's First Hand-held Laser Projector!

World's Smallest 20 Lumen Pico Projector!
February 4, 2010
AAXA Technologies proudly introduces the
AAXA L1 Laser Pico Projector
- the worlds first laser pico projector with an internal media player and storage. The unique three-color laser light source enables the L1 to produce images with amazing color saturation that are always in focus. Designed for mobile professionals and entertainment, the AAXA L1 pocket projector employs our PCOS technology. This technology combines a revolutionary laser light source, proprietary despeckling technology, and an LCoS imager to achieve a 20 lumen output at 800x600 resolution without the pixilation problems found in some laser projectors. The flexibility offered by the L1 laser light source opens up a new world of possibilities in projection applications. The focus-free operation allows for rapid changes in projection size, simultaneous far and near surface projection, angled projection, and projection on curved and other non-flat surfaces. Its ultra-efficient optical engine enables the L1 to produce rich images even in less-than-dark environments - and color-rich images up to 50" in dark environments. Combined with onboard 1.5 hour battery, the L1 operates as a true hand-held laser projector without the need for any cables or external power source.
Onboard features include VGA input supporting up to 800x600 resolutions for laptop connections and on-board gamma correction. Additional features include a powerful media player capable of decoding of video (AVI, ASF, WMV, MPG), audio (MP3, WAV, AAC), images (JPG, GIF, PNG, BMP), and popular document formats (DOC, XLS, PPT, PDF), onboard memory, and a UBS port capable of reading files directly off a standard USB thumb drive (included).
The L1 is the world's smallest 20 lumen pico projector - no larger than a small cell phone, measuring only 4.2" x 2.1" x 0.8" and weighs in at 170 grams (including battery). The L1 projector is much smaller than the traditional "pocket projector". It slips into a pocket or briefcase and comes with a stand, making it fully portable and configurable for maximum presentation flexibility. Additional accessories allow the L1 to connect to Apple iPhone/iPod, Microsoft Zune, Sony Playstation Portable (PSP), and a wide range of cellphones from Nokia, LG, Samsung, and HTC.
Battery life is rated at 90 minutes. The included AC adapter allows for unlimited run time.
The L1 LASER PCOS projector is available for pre-order and begins shipping February12, 2009. Due to the scarcity of laser diodes supplies are extremely limited. Pre-orders are now being accepted through our website.
MSRP: $799 $599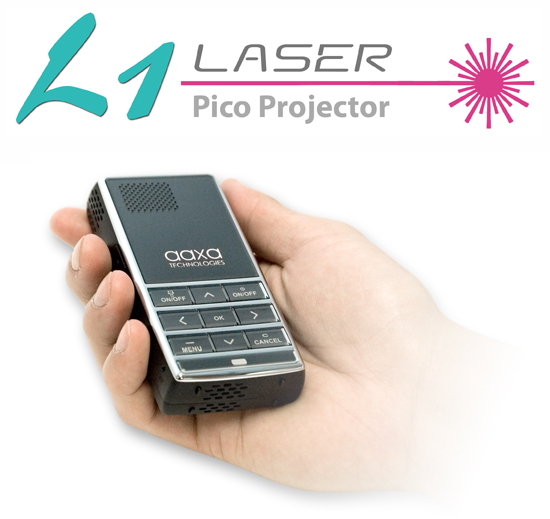 Comparison of AAXA Projectors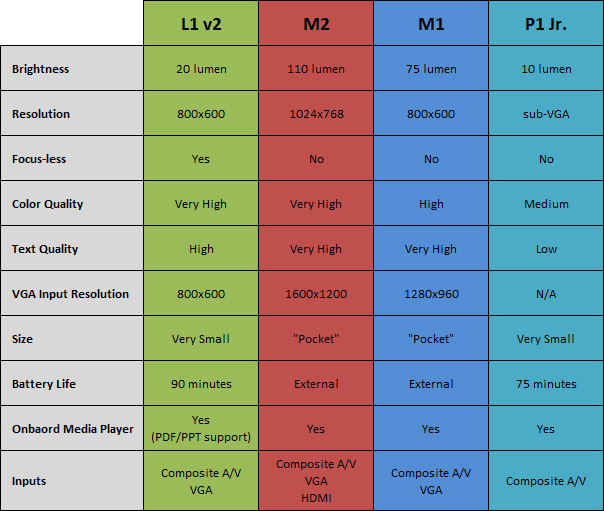 CONTACT US
AAXA Technologies, Inc.
1541 Parkway Loop, Suite F
Tustin, CA 92780
Phone: (714) 957-1999
Fax: (714) 242-6712
Email:
info@aaxatech.com