PRODUCTS
AAXA PROJECTORS
•
M4 Mobile Projector
•
LED Android Projector
•
P450 Pico Projector
•
P3X Pico Projector
•
LED Pico Projector
•
P300 Pico Projector
•
P4 Pico Projector
•
P3 Pico Projector
•
P2 Jr. Pico Projector
AAXA ACCESSORIES
•
Projection Screens
•
Mounting Solutions
•
Cables & Power
PRODUCT ARCHIVE
•
LED Showtime 3D
•
OEM250 Micro Projector
•
M2 Micro Projector
•
P1 Pico Projector
•
P1 Jr. Pico Projector
•
P2 Pico Projector
•
L1 Laser Projector
•
M1 Micro Projector
•
AF115 Theater Projector
•
HS102 Micro Projector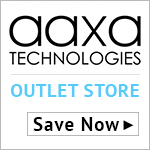 AAXA Technologies refurbished projectors have been stripped, cleaned, reassembled and thoroughly tested.

AAXA refurbishes projectors that are returned to us by retailers or consumers. Often times a customer returns a product for a refund without even opening the box or using the item at all. Since this can no longer be sold as new, it has to be offered as a refurbished product.

For projectors that are returned damaged, parts and materials are reused rather than disposing them. After thorough inspection, all products are restored to a fully functional condition similar to a brand new unit. Refurbished units may have observable cosmetic blemished, but will not affect performance.

When a projector is being refurbished, it is stripped down as far as necessary for diagnostics to be complete. Components that are damaged are replaced with new parts while the unacceptable parts are recycled. It is then put through the production process and then retested to ensure they meet all original factory specifications.

12-month warranty - parts and labor guaranteed by AAXA for 12 months.