PRODUCTS
AAXA PROJECTORS
•
P700 Pico Projector
•
M4 Mobile Projector
•
LED Android Projector
•
P450 Pico Projector
•
P3X Pico Projector
•
LED Pico Projector
•
ST200 Pico Projector
•
P300 Pico Projector
•
P4X Pico Projector
•
P2 Jr. Pico Projector
AAXA ACCESSORIES
•
Projection Screens
•
Mounting Solutions
•
Cables & Power
PRODUCT ARCHIVE
•
P3 Pico Projector
•
LED Showtime 3D
•
OEM250 Micro Projector
•
M2 Micro Projector
•
P1 Pico Projector
•
P1 Jr. Pico Projector
•
P2 Pico Projector
•
L1 Laser Projector
•
M1 Micro Projector
•
AF115 Theater Projector
•
HS102 Micro Projector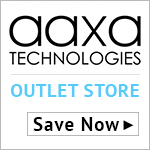 AAXA L1 v2 LASER PICO PROJECTOR







Limited Quantities!




Vivid 20 lumen laser light source
Sharp SVGA (800x600) resolution
USB memory stick reader
AVI, WMV, MP3, JPG decoder
Reads Word, Excel, PPT, PDF
Projects up to a 50" image*
*(In low-light conditions)
Composite and VGA input support

Additional Product Info



MSRP: $449 $399

Currently on Backorder






No Focus Needed
---
Our PCOS laser engine eliminates the need for focusing optics. The L1 projector produces a clear in-focus image on any surface regardless of curvature or distance, allowing rapid changes in projection size, simultaneous far and near surface projection, angled projection, and projection on curved and other non-flat surfaces.

---
AAXA L1 ACCESSORIES
ONLINE SPECIALS

AAXA P300 Micro Projector
1280x800 • 300 lumens
HDMI & Media Player
$419.00
Order Now
---

LED Showtime 3D
720P • 3D Ready
HDMI & Media Player
$499.00
More Info
---

AAXA P3 Pico Projector
WSVGA • 50 lumens
Windows CE • 11 oz.
$269.00
More Info
---

AAXA P4 - X Pico Projector
WVGA • 95 lumens
HDMI & Media Player
$299.00
More Info
---

AAXA M2 Micro Projector
WXGA • 110 lumens
HDMI, VGA, SD, USB
$339.00
More Info
---
---