AAXA P700 Pico Projector Firmware Update
This is a guide to update your P700 Projector. You may download the MERGE file
HERE
Before you update
Update P700
Problems installing update
Before you update
Here are some important tips:
Plug your P700 into a working electrical outlet before installing updates. DO NOT unplug or turn off your P700 while it is updating. Make sure the power adapter is connected securely and nothing is loose.
If you have anything else connected besides the power adapter to the P700, please disconnect it so it will not interfere with the update.
Update P700
After following the precautions above, follow these steps to ensure that the P700 update is installed:
Step 1. Put the MERGE file from the download link provided into the root directory of the USB flash drive.

Step 2. Make sure only the MERGE file is in the USB flash drive.
Step 3. Turn on the projector and plug in the flash drive into the USB port on the P700.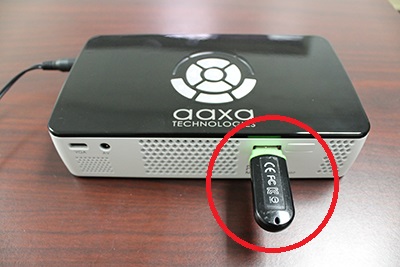 Step 4. Select the Settings option from the main menu, located on the top right corner.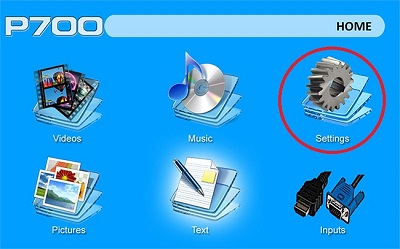 Step 5. Select the last option that says Software Update (USB).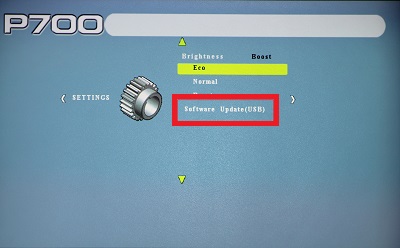 Step 6. Once selected, the screen will display a prompt "If you want to update". Press the left directional button on the P700 to confirm update. DO NOT POWER OFF WHILE UPDATING.
Step 7. It will show the update progress (0 – 100%). After it hits 100% the projector will be automatically restarted with the updated firmware.
Step 8. To ensure the P700 was updated, please do a Restore Factory Default from the settings menu. You would need to press the left directional button once you are in the Settings menu to get to the option.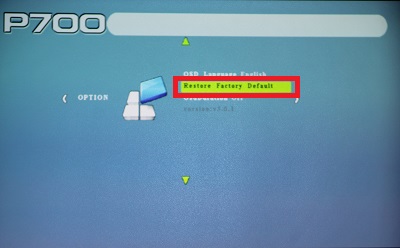 Step 9. Once selected, a prompt message should appear indicating "Are you sure" and gives the option of Yes (left button) or No (right button). Press the left directional button on the P700 to confirm and the P700 should automatically restart.
Step 10. After the update is complete, make sure the MERGE file is deleted from the USB flash drive before re-using for media playback.

Problems installing update
On the last page of the Settings menu it should show the version as 3.6.8. If it does not show version 3.6.8, please repeat steps 1-10 above.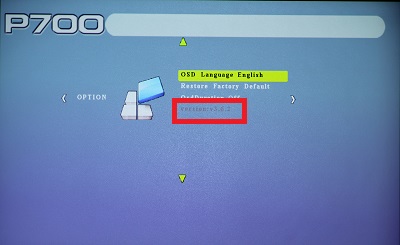 Please note if you are idle in the Settings menu for more than 5 seconds it will automatically return to the main menu. You may adjust the timer for that in the Settings menu where the Restore Factory Default option is. Adjust the OSD Duration to a longer time as desired.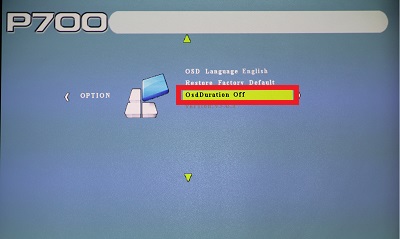 If you get a "No Device Detected" message in Step 5, please make sure your USB flash drive is working properly by plugging it into a computer, and please make sure it is plugged all the way into the USB port on the P700.
If you are still experiencing issues with the P700 update, please contact our Technical Support Team at (714) 957-1999 during our business hours, Monday to Friday 9AM-4PM PST or email us at info@aaxatech.com , and we will assist you as soon as possible.