NEWS ARCHIVE

AAXA Technologies Pico Projectors Now Compatible With Samsung Galaxy S3, Galaxy Note 2 and Future 11 pin micro usb input Smartphones



AAXA Full 1080p HDMI 11-pin USB MHL Cable for Samsung Galaxy S3 and Samsung Galaxy Note 2

Tustin, CA February 6, 2013

AAXA Technologies, the leading manufacturer of Pico projectors, is pleased to announce the release of our Samsung Galaxy S3 and Galaxy Note 2 cables. The new Samsung Galaxy S3 and Note 2 adapter connects directly into the Samsung 11 pin micro USB input allowing these devices to seamlessly connect to AAXA's M2, P3, P4X, P300 and LED Showtime series pico and micro projectors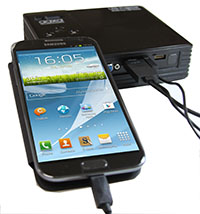 Perfect Compatibility with Samsung S3 / Note 2 and AAXA Picos

The AAXA MHL Cable for Samsung Galaxy S3 and Note 2 utilizes a high definition 1280x720 pixel resolution in order to deliver a crisp, vibrant image from your phone to your AAXA pico projector. Using this cable, AAXA pico projectors can now project a variety of HD content straight from your phone. The cable allows users to be truly mobile as the only accessories needed are your smartphone and pico projector.

MHL Capabilities
The AAXA MHL cable measures 6.5' in length and connects to the full sized HDMI ports found on the M2, P3, P300 and Showtime, as well as the mini-HDMI port found on the P4X. The 11-pin MHL port of Samsung phones allows full mirroring capabilities to the projector, meaning anything you see on your phone, you'll be able to enjoy on a big screen projection. All your favorite Android games can be enjoyed with a projector, including Angry Birds, Doodle Jump, and Temple Run. Business professionals will be able to stay effective on the road with the AAXA MHL cable. When paired with a smartphone and projector, the MHL cable allows users to use their Android productivity suite to its full potential.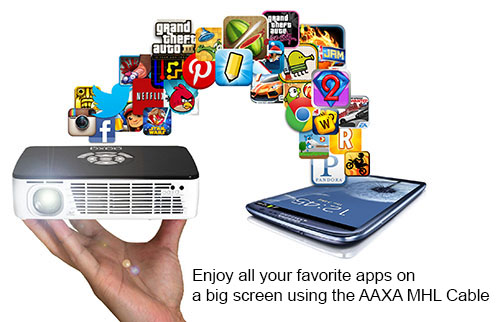 About AAXA Technologies
AAXA Technologies Inc was founded in 2008 as a manufacturer of a new class of projector known as "micro" projectors and "pico" projectors. Our core technology is based on small LCoS (Liquid Crystal on Silicon) and DLP (Digital Light Processing) imagers mated to LED (light emitting diode) and Laser light-sources. This technology makes possible the manufacturing of micro projectors and pico sized projectors. In 2010 AAXA launched the world's first laser pico projector and today remains a leader in mini-projector technology. AAXA manufacturers the majority of its products in China, with core technological development occurring both in the Silicon Valley, California and China

MSRP: $24.99


Only $19.99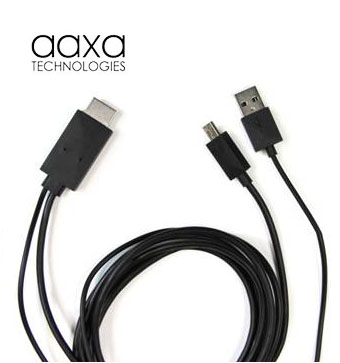 ---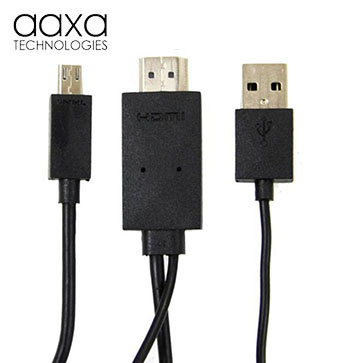 CONTACT US
AAXA Technologies, Inc.
1541 Parkway Loop Suite F
Tustin, CA 92780
Phone: (714) 957-1999
Fax: (714) 242-6712
Email:
info@aaxatech.com