NEWS ARCHIVE

HD 720P LCoS Short-Throw Pico Projector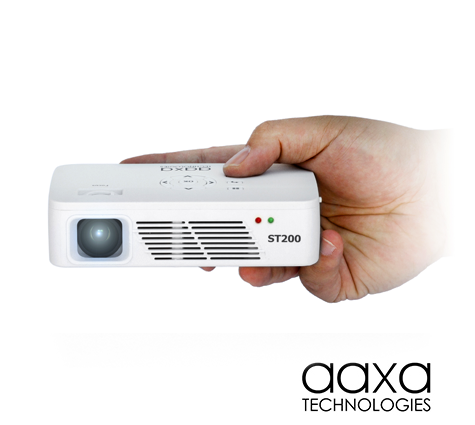 The AAXA ST200 features short-throw optics, 1280x720p native resolution,
3rd Generation LCoS (Liquid Crystal on Silicon) Imager, a 15,000 hour solid-state
LED light source, and a 60 minute lithium-ion battery
Tustin, CA March 30, 2015


AAXA Technologies announces the AAXA ST200 – The lowest priced true HD pico projector on the market. This pocket projector's optical core features a 3rd generation Liquid-Crystal-On-Silicon (LCoS) imager that delivers true 720P native resolution without using pixel turning, optical tricks, or digital up-scaling.

The AAXA ST200 features short-throw optics, 1280x720 pixel native resolution, a 15,000 hour solid-state LED light source, and a 60 minute lithium-ion battery that is able to deliver a brilliant 100" HD resolution picture anytime, anywhere*.

The ST200 raises the benchmark for pico projectors by offering the best combination of value, resolution, and performance. At $299 the ST200 is the lowest priced native 720P HD resolution LED projector available.

Premium Product at an Economical Price

The ST200 makes no compromise in performance and value. The nucleus of the projector is a premium ARM processor delivering high quality HD playback with audio delivered through a premium grade speaker or a 3.5mm stereo headphone jack. No inputs are overlooked as the ST200 includes inputs for HDMI, Composite AV, VGA, as well as a microSD card slot and USB port for video and picture playback. All of this is wrapped in a premium soft-touch shell.

The Mobile Presentation Revolution

The AAXA ST200 joins the mobile revolution as an "anytime, anywhere" device. The ST200 is a mobile projector that fits comfortably in a purse, briefcase, or laptop bag. With its onboard media player users can simply load a slideshow or video presentation directly into the projector. With its onboard battery and quick start (no warm up) LEDs business professionals can easily and quickly deliver presentations without needing to fumble with cables, external devices, or to crowd around a notebook or tablet.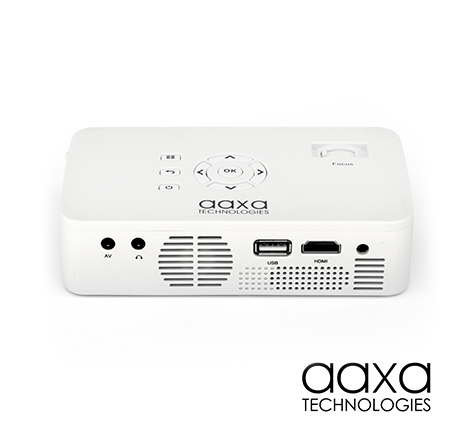 All-In-One Powerhouse

The AAXA ST200 is the ultimate portable projector for the discerning user. It is an all-in-one projection solution that includes an onboard media player, digital picture playback, and an array of inputs including Composite AV, HDMI, and VGA. The powerful onboard media player decodes files directly off a USB Stick or microSD Card and is capable of handling high resolution videos, movies, and high megapixel pictures. This feature allows users to leave the laptop and power cords at home and deliver presentations and videos directly from the projector while fully cordless. Of course the ST200 supports an array of inputs including HDMI, VGA, and Composite video that enables connectivity with smartphones, computers, and other data sources**. With the AAXA ST200, professional users can deliver presentations, play videos, and watch digital TV all from a single self-powered device.

Main Features


HD 1280x720 Resolution - The ST200 achieves true HD 1280x720P resolution through a 3rd generation LCOS imager.


150 Lumen Short Throw Optical Engine - The ST200 incorporates 15,000 Hour Vibrant Color LEDs mated to a short-throw lens (0.8:1) and produces 150 lumens of brightness.


60 Minute Onboard Battery - The AAXA ST200 features a built-in 60 minutes lithium-ion battery.


Onboard Media Player - The AAXA ST200 features a powerful onboard media player capable of playing videos, movies, pictures, and music.


Other Features - HDMI, Mini-VGA, and Composite Video input. Keystone. Onboard 1-watt Speaker. 3.5mm Audio Output.
Pricing
The AAXA ST200 Pico Projector is available for sale at www.aaxatech.com for $299 and through our major retail partners.
About AAXA Technologies
AAXA Technologies Inc. was founded in 2008 as a developer and manufacturer of a new class of projectors known as "pico" projectors. AAXA's core technology is based on small LCoS (Liquid Crystal on Silicon) and DLP (Digital Light Processing) imagers mated to LED (light emitting diode) and Laser light-sources that make pico projectors possible. In 2010, AAXA launched the world's first laser pico projector and today remains a leader in micro projection technology. AAXA holds several patents in optical and LCoS designs and manufactures the majority of its products in China, with core technological development occurring in China and Silicon Valley, California.
*The AAXA ST200 works best in dark environments. Battery power operates in "economy" mode only.
**iPhone connectivity requires Apple HDMI cable, Android connectivity requires MHL capable on MHL supported devices only

MORE INFO - PRODUCT SPECIFICATION PAGE

MSRP: $399.00

Only $299.00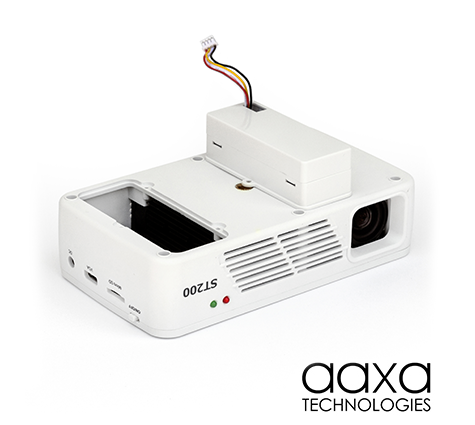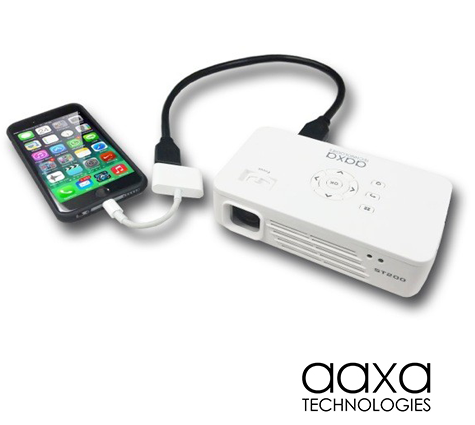 CONTACT US
AAXA Technologies, Inc.
1541 Parkway Loop Suite F
Tustin, CA 92780
Phone: (714) 957-1999
Fax: (714) 242-6712
Email:
info@aaxatech.com