NEWS ARCHIVE

AAXA L1 to Apple iPod / iPhone / iTouch Audio-Video Cable Now Available
June 10, 2010
AAXA Technologies Inc is pleased to announce the release of our Apple iPhone, iPod cable made for the L1 laser projector. The new iPhone, iPod cable allows Apple iPhone / iPod / iTouch users to connect directly to AAXA's L1 laser projector. The new cable connects directly into the Apple 30-pin connector port and allows users to project iPhone / iPod video, music, and pictures directly to the AAXA L1 laser projector without the need for any additional cables.
Furthermore, the AAXA cable incorporates a genuine Apple authentication chip. A genuine authentication chip is necessary to ensure compatibility with all current and future iPhone / iPod / iTouch models and firmware versions and to ensure that the cable does not create a conflict with these new devices.
The AAXA L1 iPhone, iPod, and iTouch cable begins shipping June 14, 2010.
Apple is a registered trademark of Apple Inc.
MSRP: $24.99


AAXA L1 iPod / iPhone Cable Instructions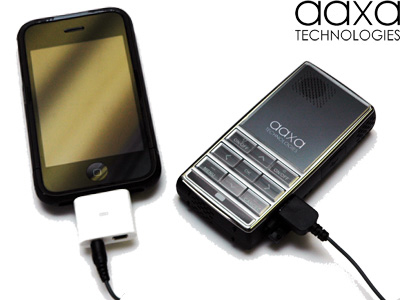 CONTACT US
AAXA Technologies, Inc.
1541 Parkway Loop, Suite F
Tustin, CA 92780
Phone: (714) 957-1999
Fax: (714) 242-6712
Email:
info@aaxatech.com