NEWS ARCHIVE

AAXA P1 Jr. Now Shipping
August 18, 2010
AAXA Technologies is pleased to introduce the P1 Jr. pico projector. Designed as a personal projector, the AAXA P1 Jr. is the world's smallest LCOS pico projector with onboard media player. Smaller than a smart phone and less than 1" thick the P1 Jr. employs AAXA's tiny new P110 optical engine and produces a substantial 10 lumen image in a 4:3 aspect ratio. With a SD Card slot, USB-on-the-go, half-watt speaker, and a robust rocessor; the P1 Jr. is capable of playing videos, pictures, and music files as well as connecting to video output devices such as the Apple iPhone, Sony Playstation Portable, and portable DVD players. With its one hour battery and 10 lumen output, the P1 Jr. puts a 50"* movie screen in your pocket!
The P1 Jr. makes for a unique gift, is value priced at $109 and with its tiny size, multiple functionalities, and wide compatibility represents the very latest in mobile entertainment technology.
*The P1 Jr. is designed to be used in dark environments only and large projected images should only be attempted in dark areas.
MSRP: $134

Shipping Now! Only $109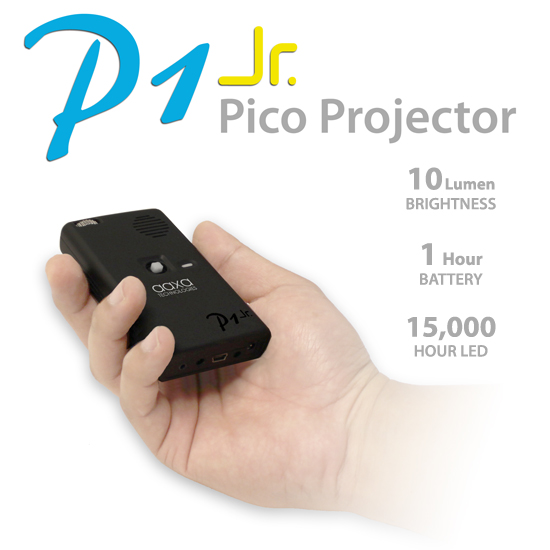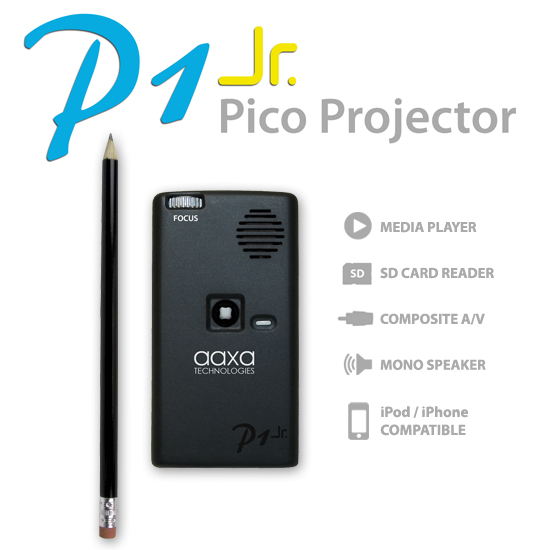 CONTACT US
AAXA Technologies, Inc.
1541 Parkway Loop, Suite F
Tustin, CA 92780
Phone: (714) 957-1999
Fax: (714) 242-6712
Email:
info@aaxatech.com