NEWS ARCHIVE

The new AAXA P300 features 550Lm Brightness, 720P Resolution, and a 60+ minute battery

The new AAXA P300 features 550Lm Brightness, 720P Resolution, and a 60+ minute battery

Tustin, CA October 10th, 2012



AAXA Technologies, a leader in Pico and Micro projectors, announces the release of the P300 Pico Projector, the world's brightest battery-powered pico projector. The new P300 features a revolutionary new pico optical engine capable of delivering 550 peak lumens at a high-definition (HD) resolution of 1280x800. Powered by Texas Instruments' DLP Technology the AAXA P300 employs Vibrant Color LED technology to deliver dazzling color quality with an operating life of more than 20,000 hours and is capable of generating a viewing experience of up to 120".

Mobile Presentation Platform



The P300 is designed as an all-in-one mobile presentation platform. At its core is a robust ARM processor capable of internal high resolution 720p video, picture, and picture slide-show play-back. Coupled with the P300's dual 1-watt speakers and internal 60+ minute lithium ion battery* the P300 can serve double-duty as both a powerful projector and as a standalone multimedia system enabling the user to project digital content directly from the projector or from a mobile phone. Connectivity is further enhanced with a VGA adapter, Composite video input, and a high-resolution digital HDMI connection that can accept resolutions up to 1080P.






A True Pocket Projector

The P300 is a true "pocket projector" at less than 5.9" long, 3.9"wide, and 1.6" tall, it is both compact and is energy efficient - consuming less than 25W when plugged in. Additional features include adjustable tripod, 1280x800 VGA input support, 1280x800 HDMI support, Micro SD Card slot, USB port, composite video input, and 3.5mm headphone jack.

About AAXA Technologies

AAXA Technologies Inc was founded in 2008 as a manufacturer of a new class of projector known as "micro" projectors and "pico" projectors. Our core technology is based on small LCoS (Liquid Crystal on Silicon) and DLP (Digital Light Processing) imagers mated to LED (light emitting diode) and Laser light-sources. This technology makes possible the manufacturing of micro projectors and pico sized projectors. In 2010 AAXA launched the world's first laser pico projector and today remains a leader in mini-projector technology. AAXA manufacturers the majority of its products in China, with core technological development occurring both in the Silicon Valley, California and China.


MSRP: $439.99


Only $419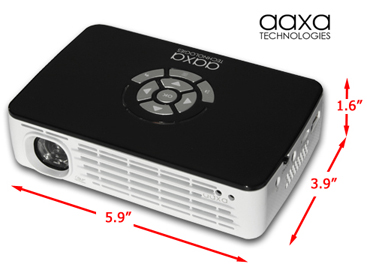 ---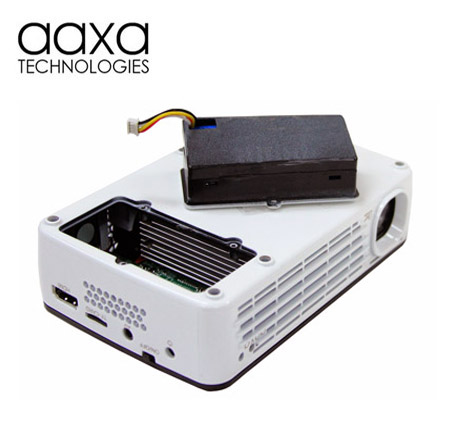 CONTACT US
AAXA Technologies, Inc.
17691 Mitchell N.,
Unit #B;
Irvine, CA 92614
Phone: (714) 957-1999
Fax: (714) 242-6712
Email:
info@aaxatech.com