NEWS ARCHIVE

AAXA Technologies Introduces 1024x600 Resolution Pico Projector

The New AAXA P3 Pico Projector features WSVGA native resolution and 65+ minute battery life
Santa Ana, CA
December 15, 2011
AAXA Technologies, the leading manufacturer of Pico projectors, has announced the release of the P3 Pico Projector, a battery powered mini-projector. The P3 Pico projector is AAXA's latest series of Pico projectors and features a category-leading 1024x600 wide-screen resolution. Powered by AAXA's 15,000 hour triple-LED technology known as Vibrant Color™ the P3 produces 50 peak lumens of brightness and is capable of operating for 65 minutes on a single battery charge. Coupled with a Liquid Crystal on Silicon (LCoS) imager the AAXA P3 is able to produce "big, bright, brilliant images" while powered by the onboard battery or plugged into a power-source.
A True Pocket Projector
"The AAXA P3 is a true pocket-sized projector and is smaller than two stacked smart-phones at a diminutive size of just 4.6" x 2.6"x 1.2". Packed in this small frame is a powerful 65+ minute lithium ion battery along with a potent portable media player system, capable of playing videos, pictures, music, and text files all through a USB memory stick."
Portable Entertainment Power House
"Additionally the P3 features a full sized HDMI port that allows easy connection with a wide array of media sources including smart-phones, tablets, DVD players, and laptops. Finally with the onboard one- watt speaker, 3.5mm headphone jack, and composite video jack the P3 can transform into a true portable entertainment power-house."
About AAXA Technologies
AAXA Technologies Inc was founded in 2008 as a developer and manufacturer of a new class of projector known as "micro" projectors and "pico" projectors. AAXA's core technology is based on small LCoS (Liquid Crystal on Silicon) and DLP (Digital Light Processing) imagers mated to LED (light emitting diode) and Laser light-sources that makes micro projectors and pico sized projectors possible. In 2010 AAXA launched the world's first laser pico projector and today remains a leader in mini-projector technology. AAXA holds several patents in optical and LCoS designs and manufacturers the majority of its products in China, with core technological development occurring in both the Silicon Valley, California and China.
Optional accessories include iPhone, PSP, Zune, Nokia, Samsung, iTouch, and AV out cables for mobile device connectivity.
The P3 is available for pre-order at www.aaxatech.com for $219 and through our fine retail partners.

MSRP: $299

Only $219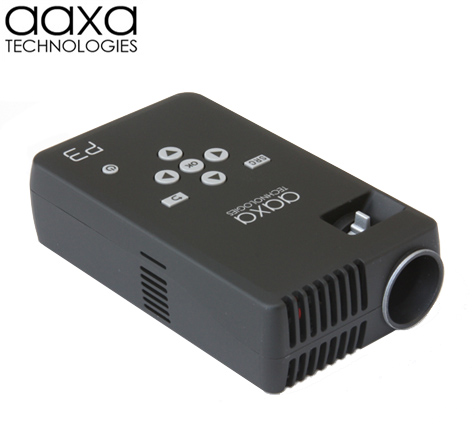 ---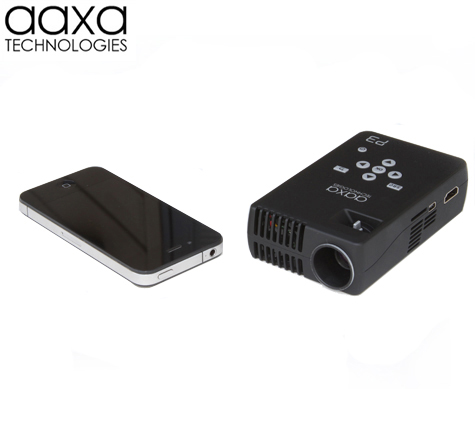 CONTACT US
AAXA Technologies, Inc.
17691 Mitchell N.,
Unit #B;
Irvine, CA 92614
Phone: (714) 957-1999
Fax: (714) 242-6712
Email:
info@aaxatech.com