NEWS ARCHIVE

AAXA M1 Limited Now Available for Pre-Order
July 22, 2010
AAXA Technologies is pleased to introduce the M1 Limited Edition micro projector. Through the use of an upgraded LED and advanced light recycling technologies, AAXA has yielded substantial optical improvements over the standard M1. Peak brightness has been increased almost 20% to 75 lumens and color quality and saturation has been greatly enhanced. The native SVGA (800x600) resolution and powerful multimedia features of the original M1 series are retained. Additionally, through refined manufacturing processes, MSRP has been reduced from $399 to $349.
With the improved optical engine, the AAXA M1 Limited Edition continues as the most powerful micro projector with onboard memory and media player capabilities in its class. Optional accessories such as a 1.5 hour battery pack remain fully compatible with the M1 Limited Edition with power consumption remaining unchanged. The M1 Limited Edition will initially be available only through AAXA Technologies' retail site and select resellers.
MSRP: $349

PRE-ORDER: $299

Update (7/28) - Now Shipping!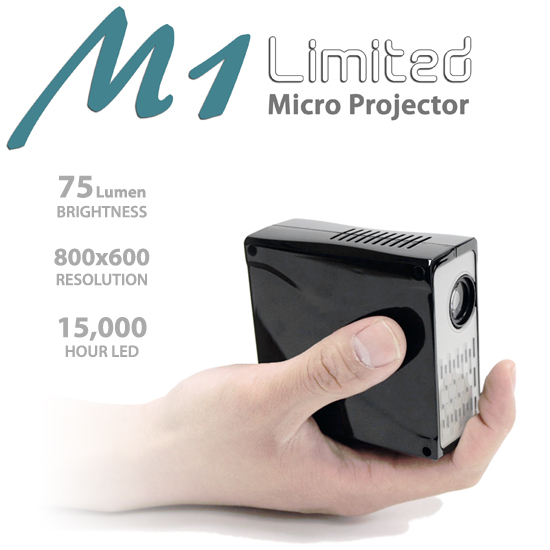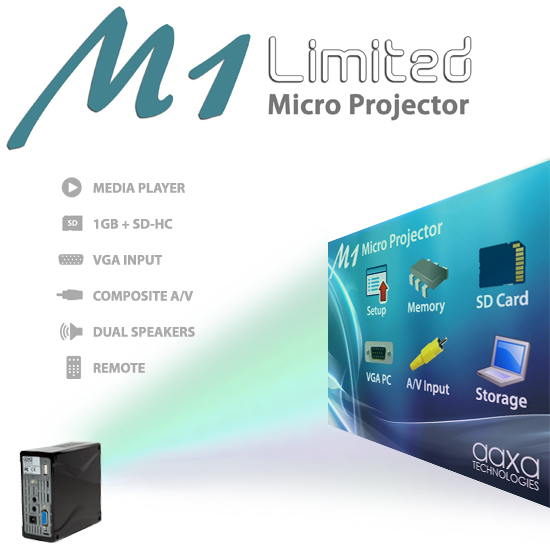 CONTACT US
AAXA Technologies, Inc.
17691 Mitchell N.,
Unit #B;
Irvine, CA 92614
Phone: (714) 957-1999
Fax: (714) 242-6712
Email:
info@aaxatech.com